En:faq
This article is not up to date. A rework is in progress.
FAQ
You should know that the institute of computer science uses several different operation systems. These are Windows and Unix-like ones, which are installed in the computer pools in the container building. In special cases you may find some Solaris systems.
I cannot log in anymore
You tried too often to log in. After 5 attempts you are blocked for 15 minutes before you can start a new attempt.

The login process starts but stops after some time. You do not have any free disk space left. Try to clean up your home directory - on Windows it is usually the C: disk. Make sure you can see the hidden files. (files starting with a dot are hidden on linux systems).
Alternatively, on Linux, you can also work with the in line mode by pressing <ALT>+<Ctrl>+<F1> or pressing <F1> instead of <Return> after log in.
I cannot access the computer pools via access card
Your card is damaged or scratched.

You need a new card. It costs 7 euros which will be deducted from your

print account

if your account's balance supports this. Drop by the

helpdesk

to get a new one.

You have not submitted an application for an account renewal. You have to do this every year.

Please notify the support group Neubau.

You have not complied with the house rules or policies.
I cannot print
Your print account does not contain enough money.

Balance your account. How to.
Determine how much money is on your print account.

To do this, log in to

zeus

via

ssh

and use the

pacinfo

command, this will display you your current account balance and various other information related to you printing account.

You can also see the date when the last payment has been arrived. With an account imposition of more than -2.50 euro, you are unable to print anymore. With more than -5.00 euro, your account will be blocked.
Please note that the payment needs several days until it arrives on your account. If the money was transferred from your bank account but did not arrive on your print account, write an email to pacadm@informatik.uni-bonn.de, containing the amount you've transferred, your login name and UID that you communicated to your Bank. Check the remittance slip. We also need the date it has been debited from your account. Take a look here for more information on this topic.
How can I log in on ZEUS on Windows operating systems?
There are several possibilities to log in in on a UNIX machine from a Windows machine,
e.g. using the icon named Putty

or ssh

on your Windows desktop.
A new window pops up. Into the line Host Name type the name zeus and set the button SSH to on.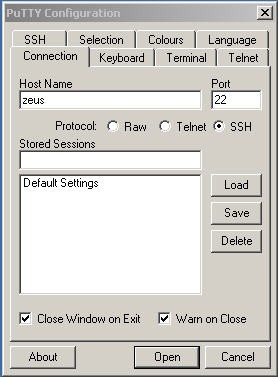 Now log in with your login name and your password. The first command you should call after a successful login would be pacinfo or quota.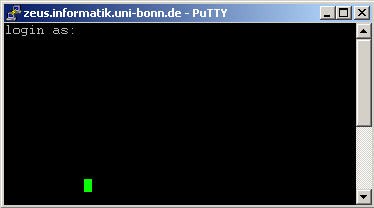 I have exceeded my disk space
Mostly on Windows systems you'll notice that you have exceeded the disk space limit when it is too late, because you won't be able to log in anymore. You can free your disk space only on a Unix system in line mode (no graphical mode) once it is too late. On Unix, you will be issued a warning that your disk space has been exceeded. You should become active then.
Solaris

At the login screen choose the item "Options → Command Line Login".
The desktop changes: from an X interface to a line mode (ASCII Terminal)

Press <RETURN> once or twice.

Login with your login name and password, press <Return>

The command quota -v will display how much disk space you use on what disk.
If the text EXPIRED appears, you have exceeded your disk space for more than 7 days. Now you need to delete as much of your home directories content until the text EXPIRED from the command "quota -v" no longer appears.

There are several Unix commands to check how much disk space you use currently:
e.g. ls -l or du | more, where the first command shows the size of each file in the directory. With the second command you will see the directories with all sub-directories. The lists are displayed in number of blocks. One block represents 512 bytes. (If you have not yet engaged in UNIX, we recommend the book: LINUX IN A NUTSHELL).

The command to delete file is rm (stands for remove) which needs some additional parameters, such as rm *.pdf. Thus, all PDF files in the current directory will be deleted.

Linux

Press <ALT>+<Ctrl>+<F1> and login or enter your login name and password regular

y but press <F1> instead of <Return>. Then you just go on from here, like in Solaris (see above) under item I.2.
Make sure there are no files called core and that the directories called .Trash are empty. These directories are in:

*. / Mail / Trash
*. / .dt / Trash
*. / Nsmail / Trash
Please also consider hidden files. On Windows you can make them visible by choosing Tools → Folder Options → View → see below
To display the files sizes choose View → Details.
I forgot my Unix password
This is bad! The only way now is to visit the Linux support in the Neubau building, where the password can be reset. Always bring an ID with a photo.
I want to change my Unix password
You can change your user attributes in the Userportal.